Although not strictly part of the pathway to Certified Technical Architect, sometimes you just want to branch out a little and demonstrate your knowledge of the platform. So with this in mind, I recently sat the Salesforce Service Cloud Consultant Certification Exam (that is a mouthful!)
Happily, I can report back, that I passed! And to help others also pass, I have compile a list of tips and resources I found beneficial to passing the Salesforce Service Cloud Consultant.
Salesforce Certified Service Cloud Consultant – Who is it for?
Firstly, let's clear the air a little.
You don't have to be a consultant to sit this exam. Much like I mentioned in the Sales Cloud Consultant exam, it is a good way to certify your understanding the features and benefits of the various aspects to Service Cloud and following on from that, also the implementation of it.
If you are an Admin, Application Manager, etc – and are working within Service Cloud, and want recognition for your skills. Or wanting to learn specifically about implementing Service Cloud, this is the certification for you.
Additionally, if you are a consultant and wanting to demonstrate your understanding of Service Cloud – then yes, this is also the exam for you. 🙂
What does the exam cover?
Even though the Salesforce Service Cloud Consultant Exam is based on Service Cloud products and knowledge – there is a sizeable chunk of the exam dedicated to which solution fits the business problem the best. Along with best practises for implementation steps and delivery of a Service Cloud project.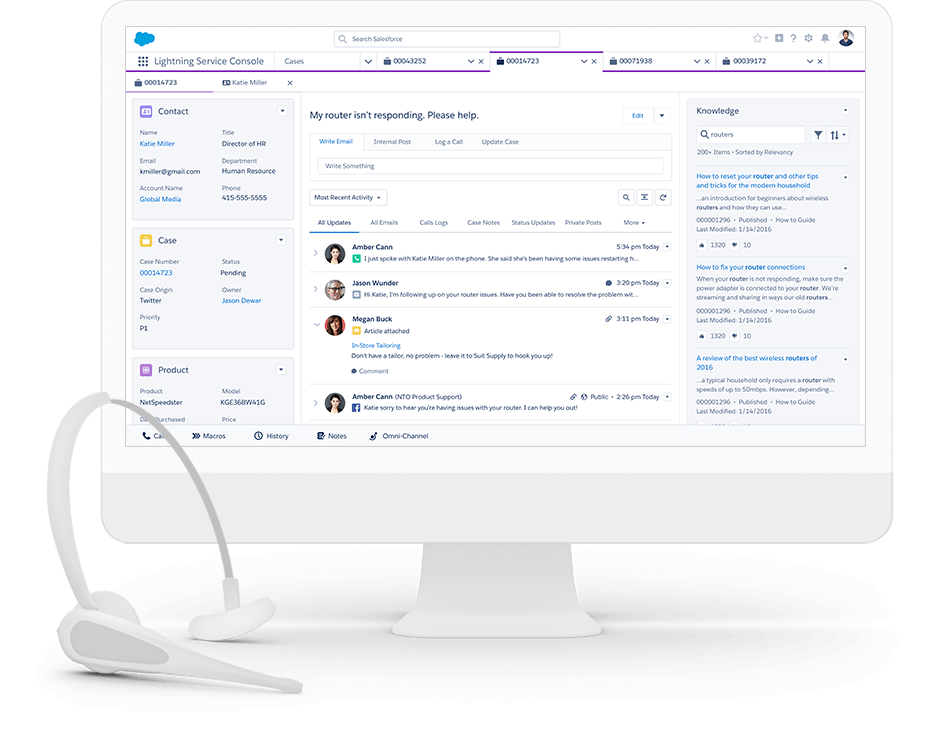 Breakdown of the exam:
Industry Knowledge: 10%
Implementation Strategies: 15%
Service Cloud Solution Design: 16%
Knowledge Management: 9%
Interaction Channels: 10%
Case Management: 15%
Contact Center Analytics: 5%
Integration and Data Management: 5%
Service Console: 15%
Salesforce's Exam Guide gives you an official breakdown of each section.
I found that the key topics/areas in my exam included – in no particular order:
Case Setup, including Console (both Classic with Case Feeds and Lightning Service Console)
Case Escalations rules
Entitlements and Milestones
Also, when you might use an Entitlement/Milestone vs Escalation rule
Knowledge, and all things relating to Knowledge (Articles, Permissions, Integration with Communities, Knowledge 'Lifecycle', Migrating to Knowledge, etc)
Marcos and Quick Text (why and how you might use them)
Email to Case, versus On-Demand Email to Case.
Migration of data, and best practises involved in such activities.
Industry knowledge, around metrics/SLAs and how to best report on them.
Use cases for customer retention (ie using Service Cloud and Sales Cloud together)
Different Service Channels, and why/when and how you might use them (Calls, Email, Live Agent, Social, etc )
Omni-channel, what it is used for and capabilities.
Different Console configuration options, and what might be best in specific scenario. Keep in mind, some of these questions still focus on both Classic Service Console and Lightning Record Pages with Components.
Exam Format
Like other Salesforce Exams, this in the format of a multiple choice exam.
All up, there were 65 questions in total (n.b. this is at time of writing Jan 2020).
Though this included an additional five questions, which don't end up counting to your overall mark. Instead providing feedback to Salesforce on user understanding of newer practices, products and features.
FYI – this is similar to other exams, like the Platform Developer I exam (where it had additional questions testing on your understanding of Heroku).
Resources that helped me
After using and implementing Service Cloud for a couple of years, I still found it really useful to study.
For example, I didn't realise there was a difference between Email to Case and On-Demand Email to Case… And there were a few questions about the different solutions and why you might use one versus the other.
In short, studying helps! 🙂
If you don't have experience using Service Cloud, this might be a little more difficult for you to pass. But not impossible. The key is preparation.
And when studying, don't just learn the feature. Try and pay attention to the scenarios and the 'why' you might use a particular feature/solution.
Trailhead, is a great place to start.
The Service Cloud modules and projects, are very hands-on and give you that implementation experience. And Salesforce has grouped a large number of the courses together, into a 'Prepare for Your Salesforce Service Cloud Consultant Credential' trailmix.
Even though I have hands-on experience, I still did the Trailhead modules. I always feel that you can never have enough hands-on experience. As it helps build your confidence, and if you get stuck in the exam, you can at least think back and try and visualise how you did a particular step.
Online Course
I also purchased the 'Service Cloud Consultant Certification' course on Udemy from Mike Wheeler.
It is a good course and really outlines the foundation of the exam and how to implement certain solutions. I was concerned when watching the videos, that it was a little dated, especially considering there has been a big push over last few years to bring Service Cloud up to parity in Lightning.
But from my own experience, there was enough on the exam still based around Classic… And the reasons of 'why' you would use a particular product is still the same.
Community
Most other blogs I researched before hand, seem to mainly focus on the exam and reiterate the outline of the exam… So I decided to also asked the Reddit Salesforce community for some tips & pointers for the exam, you can check out that thread here.
One user 'yummyyummybrains' (great username btw!) pointed out that with these Consultant exams:
…I can say: the questions are going to involve a lot more qualitative and evaluative analysis than the Specialist Exams. Less: "What does this function do?" and more: "given these parameters, what's the best way to achieve the client's stated goal?"

I've had a hard time recommending study materials for the MC Consultant Exam for that very reason — how do you study for an exam that requires deep knowledge of the relative pros and cons of different features, and how they would be impacted by the specific needs of a client?…

yummyyummybrains on Reddit re: Service Cloud Consultant Exam
One blog article I did find that stood out for me was from Ashish, who created an in-depth study guide, including checklist of topics and direct links to Salesforce Help articles for each specific topic on the Exam Guide.
Wrap-up
So there you have my little debrief of the Salesforce Service Cloud Consultant Certification Exam.
As mentioned about, there is a big focus on why and when you would choose a particular solution to match a business requirement. So learning just the features of Service Cloud products won't be enough…
If you have any tips or insights you would like to share, please feel free to use the comments below.
And if you are sitting the exam, best of luck to you!